Hologram LTE Cat-M1
LTE Cat-M1 Cellular, Purpose-Built for IoT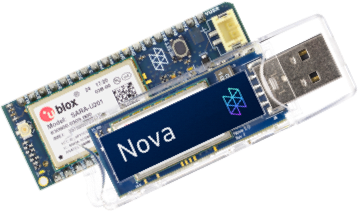 What Is Cat-M1?
LTE Cat-M1 is a new cellular technology standard designed specifically for IoT low-power wide area (LPWA) applications
Low Power - Extended battery life for IoT devices using low-power LTE Cat-M1 cellular modules
Extended signal range penetration - Improved connectivity strength for indoor and underground cellular deployments
Future-proof: Develop on globally available 3G technologies with the Hologram Nova or Dash and upgrade to LTE CAT-M1 versions with the same form factor
Frequently Asked Questions
What is LTE Cat-M1?

LTE Category M1 is a new cellular radio access technology optimized for low-power wide-area (LPWA) applications in IoT that is compatible with existing LTE networks.

Which carriers support LTE Cat-M1?

In the US, AT&T and Verizon are the first networks to support LTE Cat-M1 technology on their existing LTE networks. LTE Cat-M1 is a new network access technology so coverage and support will vary by network provider.

Which LTE Cat-M1 carriers will the Hologram Nova and Dash LTE Cat-M1 support?

The Hologram Nova LTE Cat-M1 is built with u-blox R404 onboard which has band 13 support for Verizon's LTE Cat-M1 network. Future versions of the Hologram Nova and Hologram Global Dash will support global LTE Cat-M1/NB1 bands. These global Cat-M versions will ship in Q1 2018 and are available for pre-order now.
Ready to try it out?
Request more info